Documented Side Effects of Xanax:

Source: Physicians Desk Reference, National Institutes of Health's Medline Plus, and/or the drug label.
Blurred vision
Confusion
Depression
Difficulty concentrating
Drowsiness
Hallucinations
Headache
Insomnia
Irregular heart beats
Irritability
Memory problems
Nausea
Problems with coordination/balance
Problems with speech
Seizures
Severe skin rash
Shortness of breath
Thinking about harming/killing yourself or trying to do so
Unusual changes in behavior or mood
Yellowing of the skin/eyes
Adverse Reaction Reports Filed with the US FDA: There have been 6,368 adverse reactions reported to the US FDA in connection with Xanax.
The FDA estimates that less than 1% of all serious events are ever reported to it, so the actual number of side effects occurring are most certainly higher.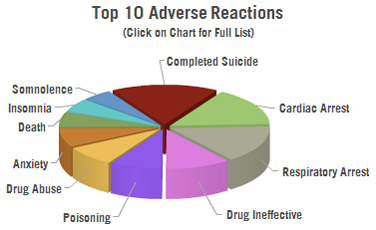 979 cases of completed suicides
878 cases of cardiac arrest
859 cases of respiratory arrest
599 cases of the drug being ineffective
484 cases of poisoning
471 cases of drug abuse
429 cases of anxiety
359 cases of death
309 cases of insomnia
271 cases of somnolence (sleepiness)